Newly Elected Iowa Governor Reynolds Enjoys the Welcoming Crowd of AAI Members and Ag Industry Companies at AAI Annual Meeting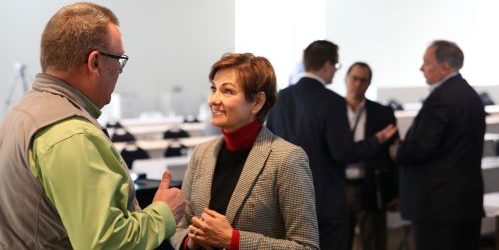 A number of notable people took part in activities during the Agribusiness Showcase and Conference last week, including an Iowa State University dean and the Governor of Iowa.
Governor Kim Reynolds provided comments to the large crowd in attendance at the AAI Annual Meeting as part of the afternoon program. During her address to the audience, Reynolds touched on a number of topics, including her desire to see the trade prospects for Iowa agriculture continue to move forward with the passage of the US-Mexico-Canada-Agreement, her support for strong rural communities by improving the infrastructure, and her thanks to AAI for helping lead the charge on Senate File 512 which provided additional funding for water quality in Iowa.
Reynolds has been in public service throughout her career. Starting as a country treasurer and a four-term Iowa Senator. Reynolds became Governor of Iowa in May 2017 when Terry Branstad resigned to step into the position of US Ambassador to China.
At the 2019 Agribusiness Association of Iowa (AAI) Annual Meeting, we celebrated our 25th anniversary of advocating the agribusiness industry. This special session of the annual meeting highlighted the importance of agriculture/agribusiness to Iowa's economy, new initiatives and ones still in the pipeline, and ways this administration plans to support ag and our future. AAI members represent all facets of agribusiness and is the largest membership-based ag association in the nation. Addressing the annual member meeting crowd reaches grain, coops, retailers, independents, elevators, and more.
Dean Robison's Introduction to the AAI membership and Iowa ag industry
In one of his first public speeches as the Dean of the Iowa State University College of Agriculture and Life Sciences (ISU CALS), Daniel Robison addressed those in attendance at the All-Industry Luncheon on February 13. The audience of 700 heard about Robison's desire to have a greater impact in agriculture, a prime motivation for becoming dean at Iowa State. Robison also addressed the need to continue to become even more efficient in agriculture as land resources are not increasing, but the world population continues to grow.
The dean also thanked those in attendance for their continued work to increase productivity and sustainability in Iowa.
Dean Robison moved to Iowa from West Virginia University. Robison holds a bachelor's degree in forestry, master's in silviculture and forest influences from the State University of New York–College of Environmental Science and Forestry, Syracuse; and a doctorate in entomology from the University of Wisconsin-Madison. He joined WVU in 2012 after serving as associate dean for research in the North Carolina State University College of Natural Resources.
In addition to Dean Robison's presentation,
eleven scholarships
were given to ten Iowa State University (ISU) College of Agriculture and Life Sciences (CALS) students during lunch on February 13. Eight Iowa Seed Association (ISA) Scholarships of $1,000 each were awarded. One of ISA awarded students were selected as the Manjit Misra Outstanding Senior Scholar and received an additional $500 scholarship. Including the $1,000 Bill Latham Memorial Scholarship and the $1,000 Lisa Shepherd Jenkins Memorial Scholarship.
The ISA scholarship competition is awarded based on academic excellence, leadership skills, interpersonal skills, and interest in a career in the seed industry or seed science. Read full article of ISA scholarships at www.seeds.iastate.edu.
About the Agribusiness Showcase & Conference – The ASC  provides a unique venue to explore the innovative tools required to agricultural businesses, now and into the future. The industry's innovation and technology will be showcased through featured speakers, presentations, and exhibitors. Workshops and exhibits provide value to everyone in the industry – agribusiness senior management, Certified Crop Advisers, grain professionals, pesticide applicators, and more.
###