Iowa's Only Daily Television Program Covering Agriculture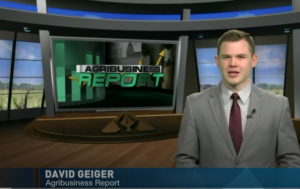 The Agribusiness Report is owned and produced by the Agribusiness Association of Iowa. The 3 minute program airs twice daily on WHO-TV in Des Moines and KCRG-TV in Cedar Rapids, and during the evening newscast on KYOU-TV Ottumwa-Kirksville. The Agribusiness Report reaches a combined 85,000 viewers in 70 counties, covering more than two-thirds of the state of Iowa with daily agricultural news.
No other daily television program in Iowa focuses on agriculture – supporting one of Iowa's largest economic sectors.
Advertise On The Agribusiness Report
The Agribusiness Report provides :30 message opportunities directly preceding each broadcast of the program.
For information about utilizing the five daily opportunities to reach an audience that seeks agricultural news, contact:
[email protected] or call 515-262-8323.