With saddened hearts, AAI would like to inform you of the passing of Winton Warren Etchen on Wednesday, May 2. He was 94. Visitation will be from 1 to 2 p.m. Monday, May 7, 2018, at First Christian Church, 2500 University Avenue, Des Moines, with a funeral service at 2 p.m.  Burial will follow the service at Resthaven Cemetery, 801 19th Street, West Des Moines, with a reception immediately following.
Winton served as the Executive Vice President of the Iowa Fertilizer and Chemical Association (IFCA) from 1964-1988.
 The following information was provided by the Etchen family:
Winton was born November 9, 1923, on his parent's farm outside Goodell, IA, to Louise (Greiman) and Albert Etchen, the second child of seven.  He graduated from Iowa State University with a Bachelor's Degree in Agricultural Engineering.  He met Dorothy Brown at a dance at then Iowa State College, and they married on October 1, 1950.  He and Dorothy raised their five children in West Des Moines.  He was the Iowa State Horticulturalist from 1960-67.
In 1964 he became the Executive Vice President of Iowa Fertilizer and Chemical Association (IFCA) and served there for 24 years. For decades, Winton was a tenacious advocate for agriculture, even lobbying for the American farmer in Washington, D.C.  He was recognized nationally as a leading authority in the agricultural arena, often with unpopular yet accurate conclusions. For 50+ years, he and his family proudly owned and operated Iowa Orchard.
When he retired, the IFCA honored him by creating the Winton Etchen Agronomy Freshman Scholarship to Iowa State University.  Winton's family best remembers his love of growing apples and roses, playing card games, riding his brother Carroll's go-karts every 4th of July, any pie Dorothy made, and his love for his family.
Winton is survived by his sister Eloise (Elmer) Kuhlers; his brothers Carroll (El), Elwyn "Aunie," (Donna) and Delbert Etchen; his children Denise Etchen, Mark (Becky) Etchen, Kyla (David) Rodgers, Michelle (Tim) Landry, and Bryan (Anastasiia) Etchen; his grandchildren Bryce Rodgers, Brynja (Shea) Thompson, Sabrina Rodgers, and Grace Landry; and his great-grandson Wylder Winton Thompson.  He was preceded in death by his wife Dorothy, his brother Merle, his sister Darlene, and his parents.
About the Winton Etchen Scholarship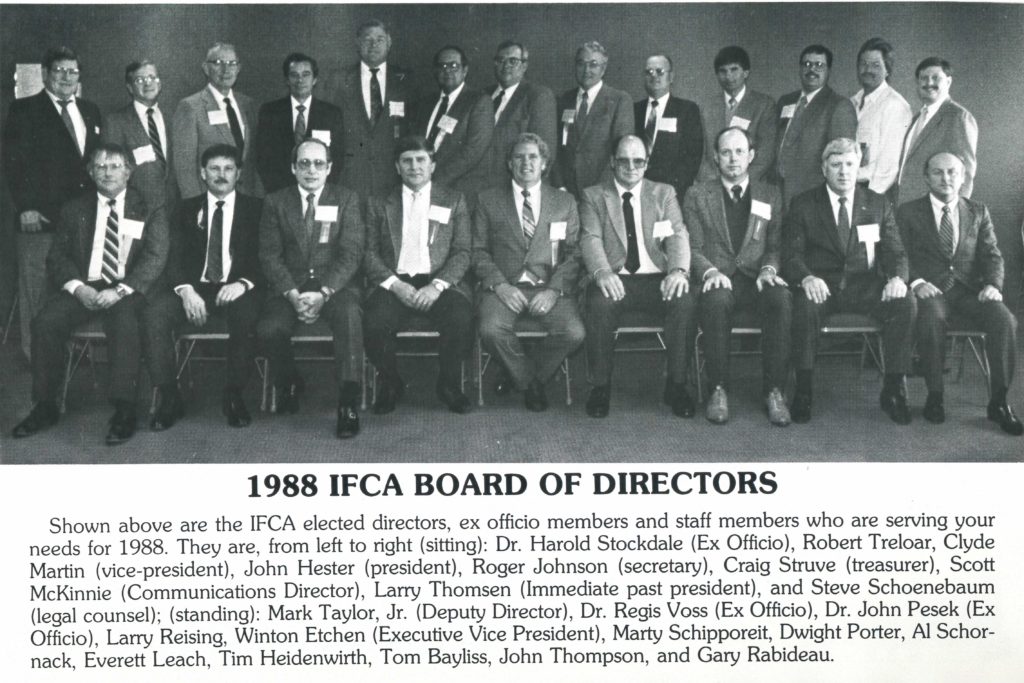 The IFCA established the
Winton Etchen Scholarship
and awarded the first two recipients in 1990. The scholarship annually provides an ISU awardee with a $1,000 initial scholarship award and he or she is eligible for $250 in each of the following three years.
By request of the Etchen Family, in lieu of flowers, please direct memorial contributions Agribusiness Association of Iowa (AAI) Foundation to be applied to the ISU Winton Etchen Scholarship Fund.
AAI Foundation for the Winton Etchen Scholarship
Mail to: 900 Des Moines Street, Des Moines, IA 50309