The Iowa Women in Agribusiness Program includes the Forum every February during the Agribusiness Showcase & Conference and additional Iowa Women in Agribusiness events which are planned periodically throughout the year.
This event has been postponed. If you would like to be notified of future events, please email

[email protected]

.
October 26, 2021 – Women in Agribusiness Social and Networking Event
Join us at the Greenbriar in the Des Moines suburb of Johnston for an afternoon of interaction with peers, a fantastic lunch, and our special guest speaker, Rachel Geilenfeld.
DETAILS
October 26th, 12:00 PM – 3:00 PM
Greenbriar in Johnston, Iowa (click here for map)
Guest Speaker:  Rachel Geilenfeld – Modern Etiquette and Networking

Cost: $30 (includes meal)
ABOUT OUR SPEAKER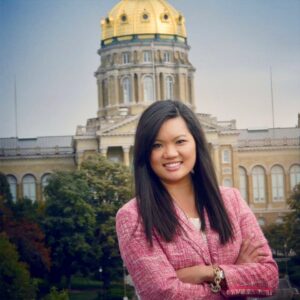 Rachel Geilenfeld is a government relations professional who has been speaking to groups about dining and networking for more than 15 years. She is a native of Clear Lake, Iowa, and has a bachelors degree from Iowa State University and a law degree and MBA from the University of Iowa.