Contacts:
Lexi Marek, IDALS
515-281-5322 or 515-326-1437 (cell)
[email protected]
Tyler Teske, Marketing Director, AAI
515-2362-8323
[email protected]
Montag Manufacturing, Klinkenborg Aerial Spraying, and Seeding Certified Crop Advisers Nancy Bohl Bormann and Tim Berkland recognized for efforts to improve water quality
Thursday, Feb. 14, 2019, DES MOINES – Iowa Secretary of Agriculture Mike Naig today announced two agribusinesses and two Certified Crop Advisers (CCAs) as recipients of the Secretary's Iowa Ag Leader Award for Conservation.  Naig recognized businesses Montag Manufacturing of Emmetsburg, Klinkenborg Aerial Spraying and Seeding of Parkersburg, and CCAs Nancy Bohl Bormann from Algona and Tim Berkland from Spencer.
"These businesses and individuals have shown outstanding leadership in advancing water quality efforts in our state," Naig said. "All of these award winners are examples of how stakeholders across agriculture are taking on the challenge of improving water quality by providing tools and information to help farmers and landowners make improvements on their farms."
Naig, along with Deputy Secretary Julie Kenney, presented the awards at the Agribusiness Association of Iowa's Showcase and Conference at the Iowa State Fairgrounds in Des Moines.
Nancy Bohl Bormann, Certified Crop Adviser – Algona

Nancy Bohl Bormann is an environmental services manager and agronomist for The Maschhoffs in north central Iowa. She works primarily with swine producers on nutrient management planning and company-wide practices to address environmental stewardship. Nancy and her husband, Matt, also farm near Algona where they have implemented various conservation practices including strip-till and cover crops. They have held and assisted with several conservation field days to showcase the various practices they've implemented.  Nancy currently serves as Chair for the Kossuth Soil and Water Conservation District and is Alternate Regional Director for the Conservation Districts of Iowa.
Tim Berkland, Certified Crop Adviser – Spencer
Tim Berkland recently served as the strategic agronomy marketing manager for GROWMARK in Iowa, Illinois, and Wisconsin. Tim has been a leader in addressing stewardship for GROWMARK in several areas including the 4R Plus initiative, the FS Enduring Farms program, and the collaborative efforts with GROWMARK and the USDA Natural Resources Conservation Service (NRCS). Tim has worked closely with growers and other agronomists in the GROWMARK system to provide agronomic and nutrient management recommendations that improve production, but also protect and minimize the impact of ag production to water quality. Tim now serves as the General Manager of GROWMARK FS Midwest based in northwest Iowa. Tim continues to work with agronomists and growers to promote the 4R's and 4R plus practices.
Montag Manufacturing – Emmetsburg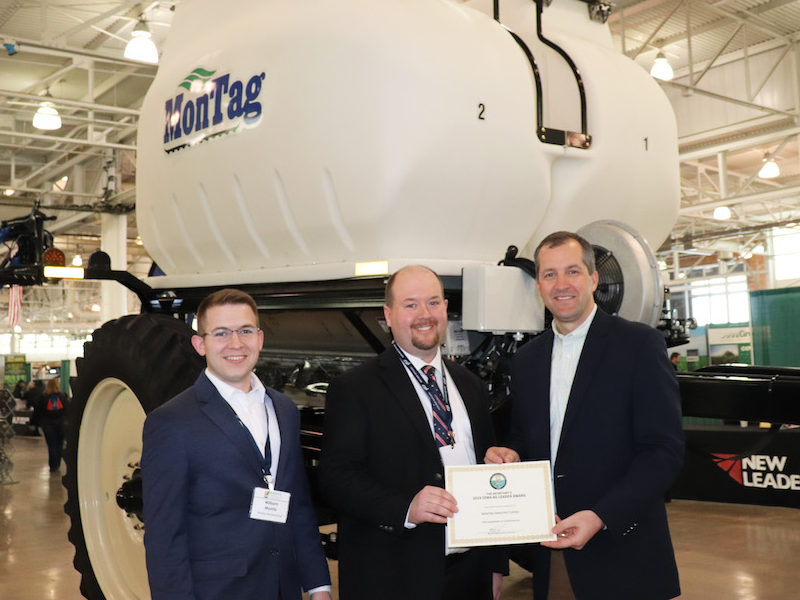 Since 1986, Montag Manufacturing has been manufacturing equipment in Emmetsburg, Iowa. Roger Montag and his family have built their business creating a full line of dry fertilizer delivery systems. The latest Fortifier line allows for improved high clearance seeding of cover crops. This piece of equipment allows the applicator to improve seeding rates and increase the number of acres covered per hour. Montag Manufacturing has the goal of helping farmers be more profitable as well as be better stewards of the land. By encouraging the practice of cover crops, farmers can reduce erosion, stop the movement of nutrients to a water source and improve soil health.
Klinkenborg Aerial Spraying & Seeding – Parkersburg
Klinkenborg Aerial Spraying & Seeding provides aerial application services to federal, state and local governments, as well as large cooperatives and individual farmers nationwide. Klinkenborg Aerial first began offering cover crop seeding services six years ago. They have quickly grown to have one of the largest footprints in the industry by seeding more than 60,000 acres of cover crops in 2018. Klinkenborg Aerial offers a variety of application options with both fixed wing and rotary wing aircrafts equipped with GPS technology to offer farmers the best option possible to seed cover crops and implement good conservation practices.
Visit CleanWaterIowa.org to learn more about voluntary, science-based practices that can be implemented on our farms and in our cities to improve water quality.  Iowans can also follow @CleanWaterIowa on twitter or "like" the page on Facebook to receive updates and other information about the ongoing Iowa water quality initiative.