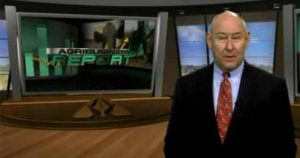 AAI Public Relations Director and Executive Producer and Anchor of the Agribusiness Report, Ken Root is, in his words, "hanging up his pig ties" and retiring from television broadcasting and AAI.
Root began his broadcast career in Oklahoma City in 1974 at WKY-TV, a sister station to WHO-TV.  Root worked in his home state for six years before moving to Kansas and starting radio and television agricultural news networks.  He then moved to New Jersey with American Cyanamid and to Washington, D.C. to launch the National AgriChemical Retailers Association.
In 1994 he came back to the Midwest to host 'AgriTalk" a daily talk radio show that was broadcast on 120 stations.  The program exists today and debates issues that impact people who live and work in Rural America.
In 2005, Root moved to Iowa as the Senior Farm Broadcaster at WHO Radio.  He remained there until 2009.  Root began anchoring the Agribusiness Report on WHO-TV in 2010.
During his career, Root has won many honors including two Oscars in Agriculture, Finalist in the New York Film Festival, Farm Broadcaster of the Year and was named a Distinguished Graduate of Oklahoma State University.  He has traveled to over forty countries as an agricultural reporter including three trips to China and two to the Soviet Union. He was the only journalist traveling to Iraq with U.S. Agriculture Secretary, Mike Johanns.
In his last Agribusiness Report, Root reflected on his first job at WKY-TV. Root stated that he was 24 and worked for an "elderly man who was 62." Root then noted the cycle continues with his replacements Agribusiness Report anchors, Cassandra Mc Dowell and Brandon Blue.
Cassandra McDowell joined the AAI team in January of 2013.  Cassandra wears many hats as the videographer and editor for The Agribusiness Report along with anchoring the segment multiple times a week.  An Iowa native, Cassandra attended the University of Kansas (KU) where she graduated with a degree in Broadcast Journalism.  As a student, Cassandra was an anchor for KUJH-TV News, KU's news station which is broadcasted throughout the Kansas City area. She has been involved in the film and beauty industry, which includes owning her own makeup line, but has a true passion for news. Cassandra and her husband, Andy, enjoy spending quality time outdoors with their son.
Brandon Blue joined AAI in the summer of 2012, as a reporter and anchor for the Agribusiness Report. Brandon's experience with television broadcasting began as a student at Iowa State University (ISU) as an anchor and News Director at ISU's student news channel, ISUtv, and later as the station's General Manager. He completed an internship with KCCI in 2011 and joined AAI shortly after graduating with a Journalism degree from ISU in 2012. Brandon enjoys every story he covers and views each as both an educational opportunity and a chance to dig deeper into the Agricultural field.
Root will reside in Dyersville and continue reporting for the Iowa Agribusiness Radio Network and writing a weekly column for the High Plains Journal.  He also is an interviewer for Agri-Pulse, a weekly agricultural policy electronic newsletter.
AAI thanks Ken for his years of service to the organization and wishes him great success and happiness as he begins this next chapter.