Grain Grading Workshop Information
August – 2018
ONLINE REGISTRATION – OPENS JUNE 2018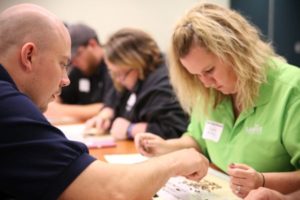 We offer two (2) one-day hands-on workshops will feature the latest information on grain quality. The Grain Grading workshops will address and display many different grain samples but will emphasize corn and soybeans. Presentations on the grading and appeal process will be given.  Participants will learn what the official U.S. grades are and how to obtain a representative sample.  Attendees will also learn how to recognize major grain damage factors.
The workshops will be under the direction of Federal Grain Inspection Service inspectors from the National Grain Center.
Each class will be limited to 30 registered students. Students will need to bring a notebook to class.  Please indicate your date preference on the form below.  Students will be assigned on a first come, first-serve basis.  AAI will attempt to schedule you according to your preference.  When this is not possible, you will be called. Your confirmation letter will specify your class date.
Sorry, no walk-in students can be accepted.
DOWNLOAD 2018 REGISTRATION FORM – TBA
Schedule

Check-in: 

8:00 a.m. – 8:30 a.m.

Class:

8:30 a.m. – 3:30 p.m.

Lunch will be served at noon.

Tuition

Member Rate:  

$95 per person per session

Non-Member Rate:  

$125 per person per session

All educational materials, breaks & lunch are included.
Questions about registration can be directed to Reilly Vaughan, 515-868-0311 or

[email protected]

.
---